Full digitalization of factory operations
EOS-branded MES solution based on Microsoft platform
Why EOS Power MES?

⚙️ Do you want to make your factory's production processes more efficient?
🔎 Would you like to reduce costs and inefficiencies related to the lack of control of production facilities?
⏱️ Do you want to collect process quality data and analyze performances?
EOS Power MES is a solution for the full digitization of factory operations that includes Microsoft apps and services. It is designed to ensure stability, security and constant updates, enabling real-time monitoring and management of every stage of production with Business Central and other ERPs.
The intuitive and mobile-friendly UX, which has been created with Power Apps, makes it easy to manage the stack of powerful underlying technologies hiding their complexity.
▼
Manufacturing Execution System
EOS Power MES: manufacturing process management app
A MES (Manufacturing Execution System) is a system that manages production execution within a manufacturing company. The main goal of a MES is to provide effective supervising and control of production activities in real time, improving the efficiency and quality of the manufacturing process.
To sum up, a MES system helps companies improve production efficiency and quality by reducing manufacturing time, while minimizing errors and optimizing the use of available resources.
EOS Power MES: its pillars
Product structure management - cycles, bills of materials production orders etc.
Resource management - employees, machines, departments etc.
Dispatching of manufacturing's plan
Recording of employees' hours - time and cost
Integration with machines - recording of useful data for cost tracking and servicing
Maintenance management - routine, non-routine for failure, predictive
Gathering of process quality data - which are detected by machines or by the operator during manufacturing
Traceability
Performances analysis
Azure IoT, Azure Stream Analytics and Power BI
Data gathering and analisys
EOS Power MES integrates with Azure IoT and Azure Stream Analytics to efficiently gather and manage data from devices. Azure IoT allows you to manage communication between different devices and applications that use the data, which are generated continuously by the devices.
EOS Power MES also makes available indicators based on Power BI, that provide information about the performance of a department or of a machine in terms of availability, continuity and product quality.
Azure IoT: devices connecting and monitoring
▼
Using Azure IoT services, EOS Power MES allows you to manage communication between different devices and applications that use the data, which are generated continuously by the devices.
In this way, gathering and analyzing data from the devices becomes an easier task, which allows you to:
make faster decisions
preserve production equipment
boost efficiency
increase flexibility
Power BI: visualizing data and making decisions
▼
Power BI turns business data into advanced visual elements. It provides clear reports and dashboards that help you better understand the data.
EOS Power MES: main features
Highlights
1 / 6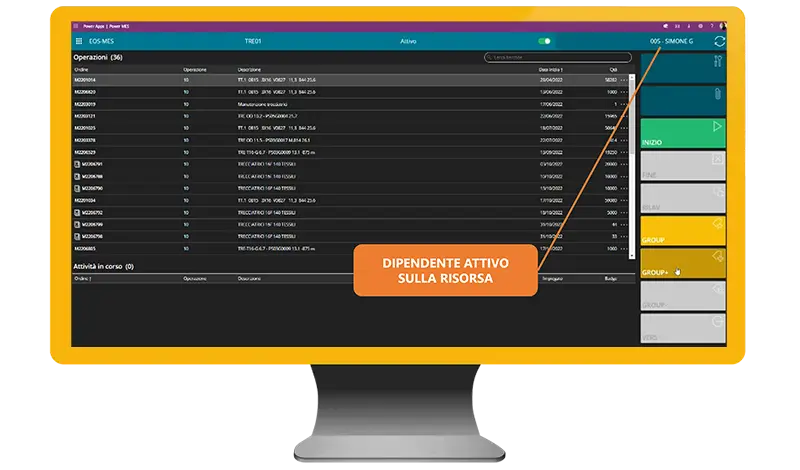 Production Panel
2 / 6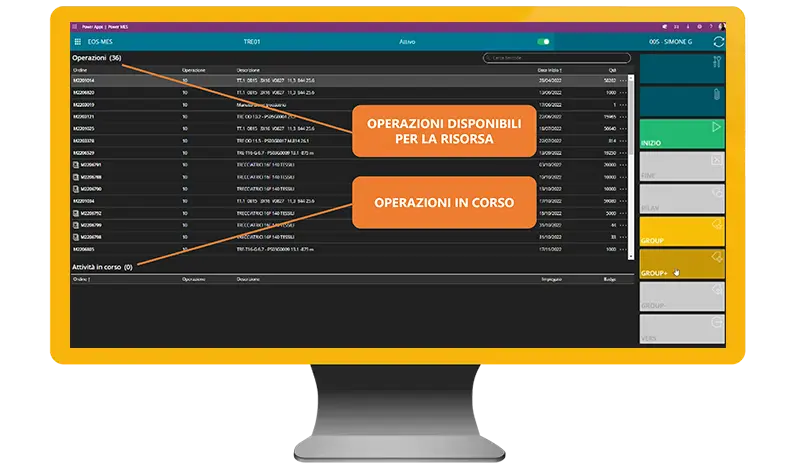 To be carried out/performed tasks
3 / 6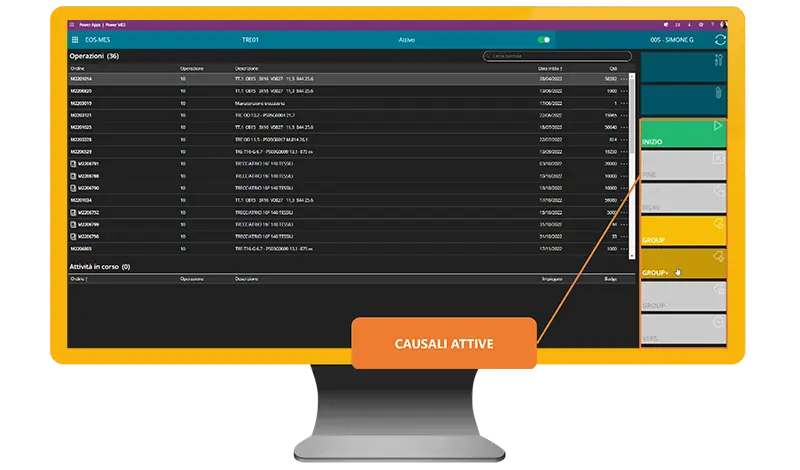 Possible causes
4 / 6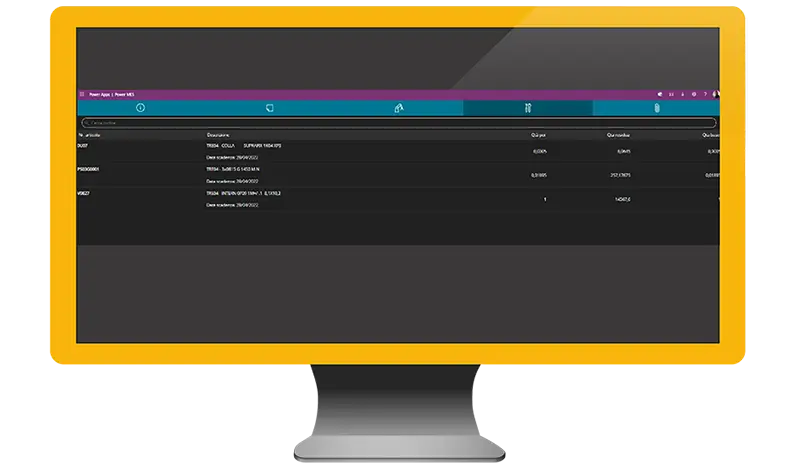 Operation details
5 / 6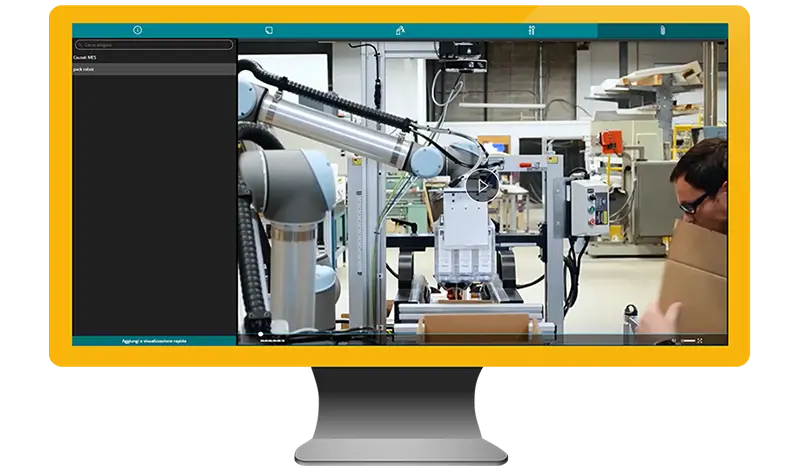 Multimedia contents
6 / 6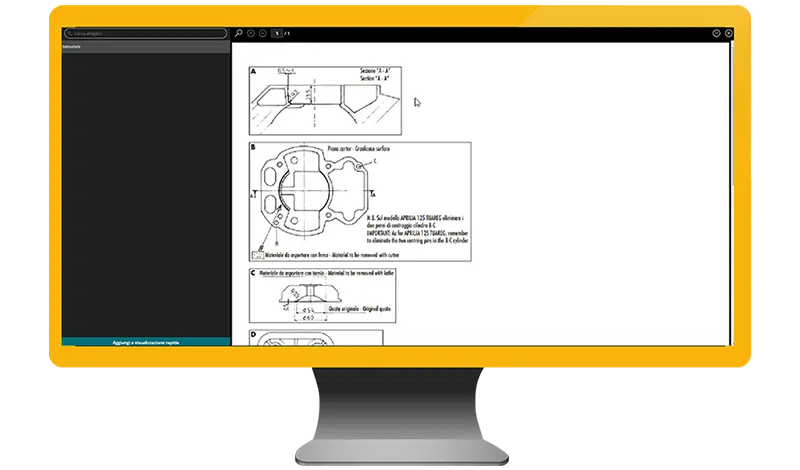 Work instructions
❮
❯
Production Panel
After the login into the Production Panel in the app, the operators can see the tasks to be performed (or already performed) and the possible causes (e.g., start or end of processing).
DETAILED ANALYSIS
Therefore, the operators can see the details of an operation, view/add notes, view equipment, components and even multimedia content (e.g., movies), consult work instructions (e.g., assembly). It's even possible to enter quality control results.
Azure Machine Learning
Artificial intelligence and predictive maintenance
The integration with Azure Machine Learning services makes it possible to manage and to deliver artificial intelligence models, and to monitor their entire lifecycle. EOS Power MES provides two models that are applied to the maintenance of production facilities:
Anomaly Detection
▼
The anomaly detection model allows to examine specific pieces of data from devices, and detect rare events that may be anomalous because they differ from an established pattern of behavior and then report them. Through the observation of anomalous data, it is possible to do preventive activities on possible failures.
Predictive Maintenance
▼
This machine learning model enables information about the status, health, and remaining life of a device. Which are the benefits?
Decrease in detentions
Equipment's preserving
Boost in quality
Scheduling of spare parts
Increased safety
continuous digital evolution
Continuous Update in Cloud
Thanks to the Cloud, EOS Power MES is costantly updated, with the aim of ensuring an ever more feature-rich platform and of embracing the ongoing digital evolution of the entire Microsoft ecosystem.
Through the continuous update, customers have access to new features and innovations, with guaranteed continuity of service.
Why should you embrace a cloud-based factory digital solution?
▼
Scalability:

You can start with a small implementation
The validity of the solution is demonstrated
Growing along with the company growth

Less risks and costs in the solution's delivery, more speed
Combination of multiple software components into one optimized, scalable and safe cloud-solution
Simplifying and decreasing the cost of user training
integration with Teams, Sharepoint and Power Automate
Communication and collaboration
By integrating with Power Automate, Teams and SharePoint, EOS Power MES allows you to create automated workflows, share tasks, organize documents and information.
▼
With the power of integration and data intelligence, EOS Power MES transforms manufacturing into an intelligent, effective and efficient digital system.